Here is a message from Mr. Collins, Supt. on our Covid updates.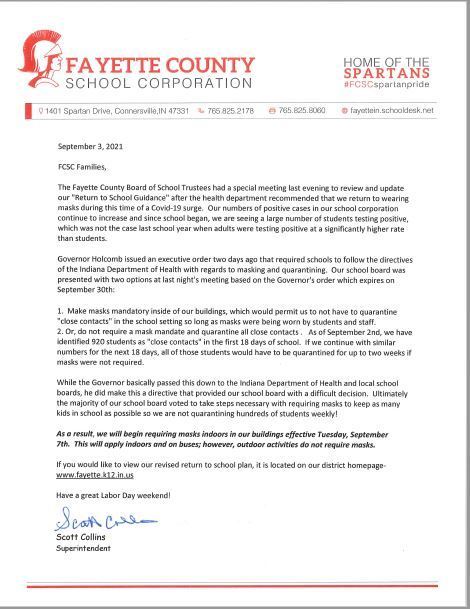 Please check out this opportunity to join our team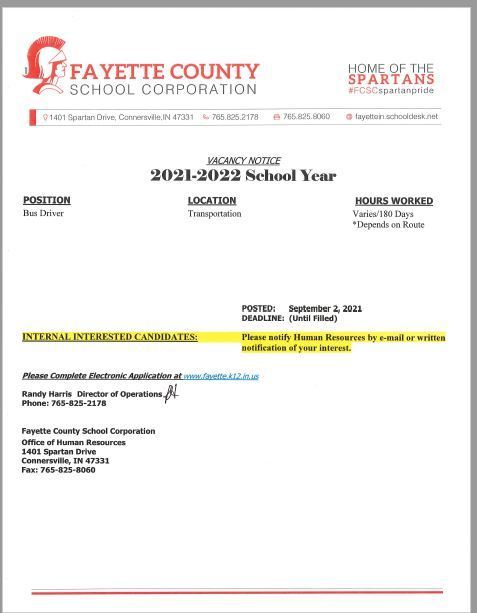 Here is your September Newsletter. It has your September lunch menu and calendar in it as well as news and upcoming events.
https://www.smore.com/zuxc9

Fayette Central Spirit Wear Store is open. Flyers are coming home. You order online: fayettecentralspiritwear.itemorder.com or send in your money with the order form that comes home.

Thank-you to everyone for a great first day! If you are a car rider please be sure to put your sign in your window to speed up the line and make sure we safely get your child back to you.

Dear Fayette Central Car Rider Parents. Our drop off begins at the North end gym doors at 7:30 AM. To help shorten your wait in line we would encourage you to drop off at the main entrance when the busses leave at 7:45 AM.

Upcoming Fayette county Board of School Trustee Meetings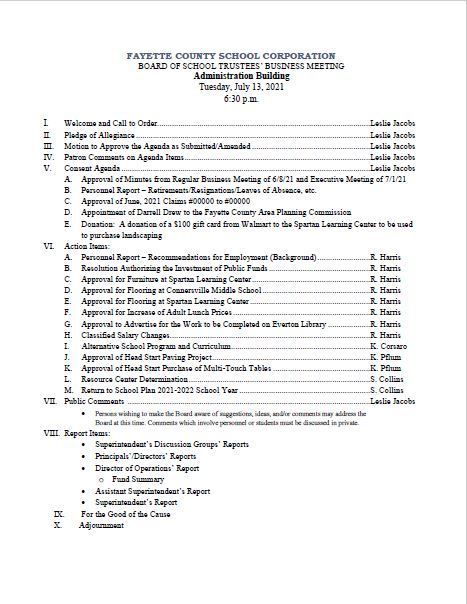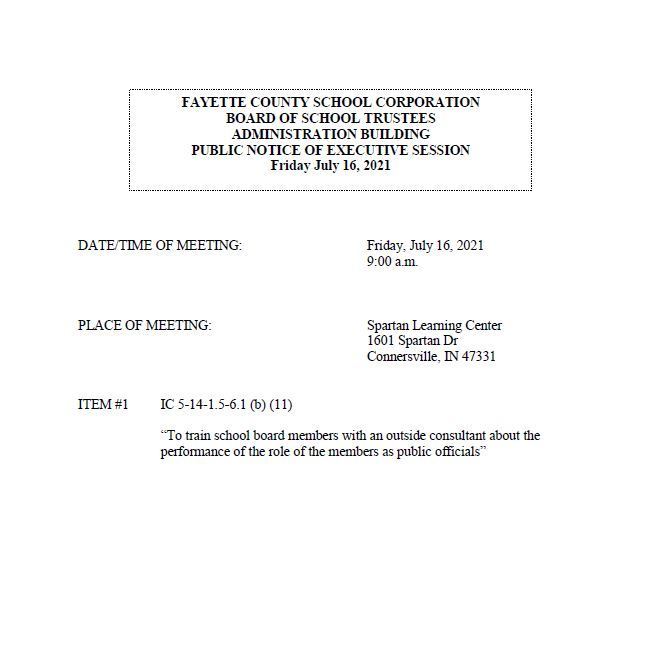 school supply lists for 2021-2022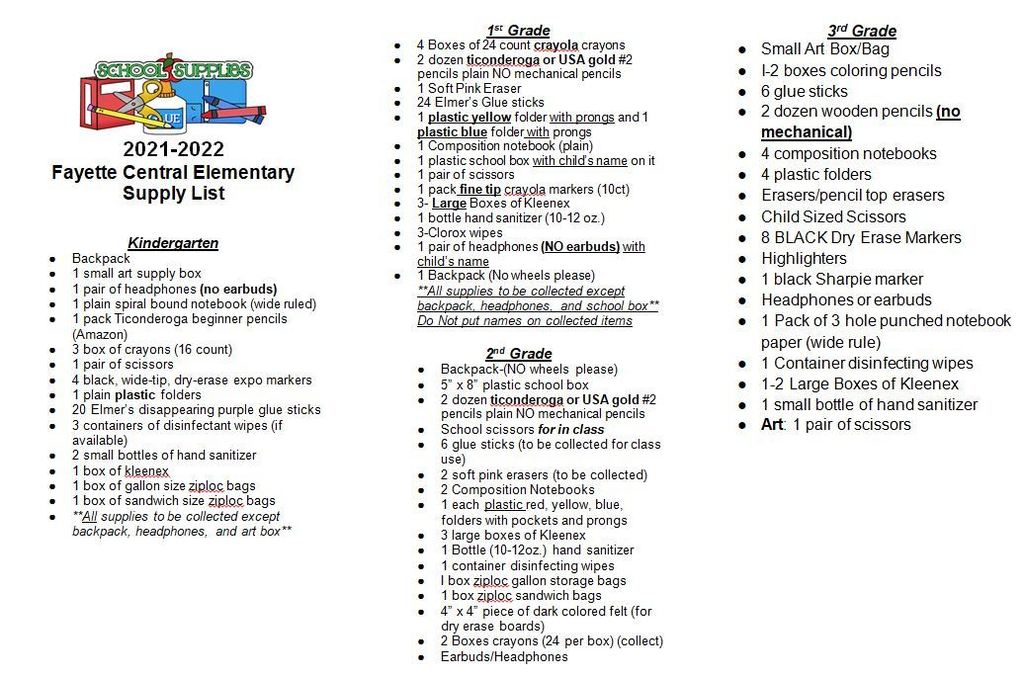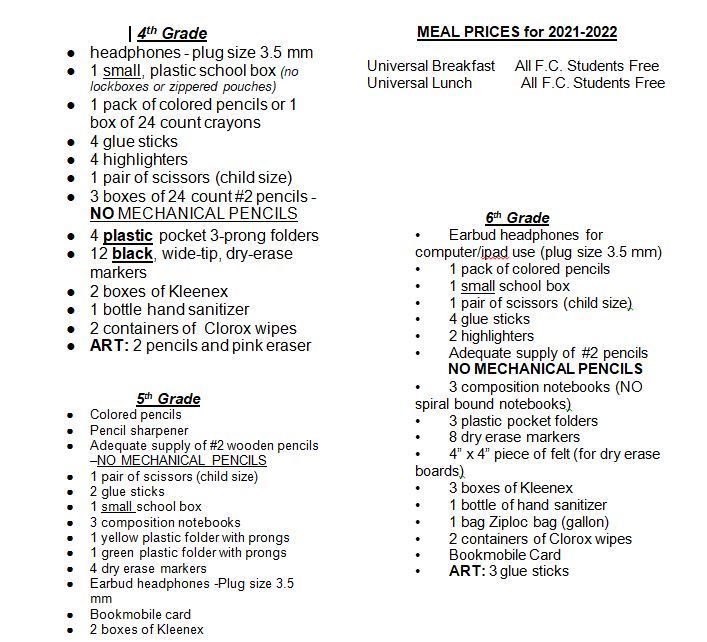 Third grade is doing a great job with their wax museum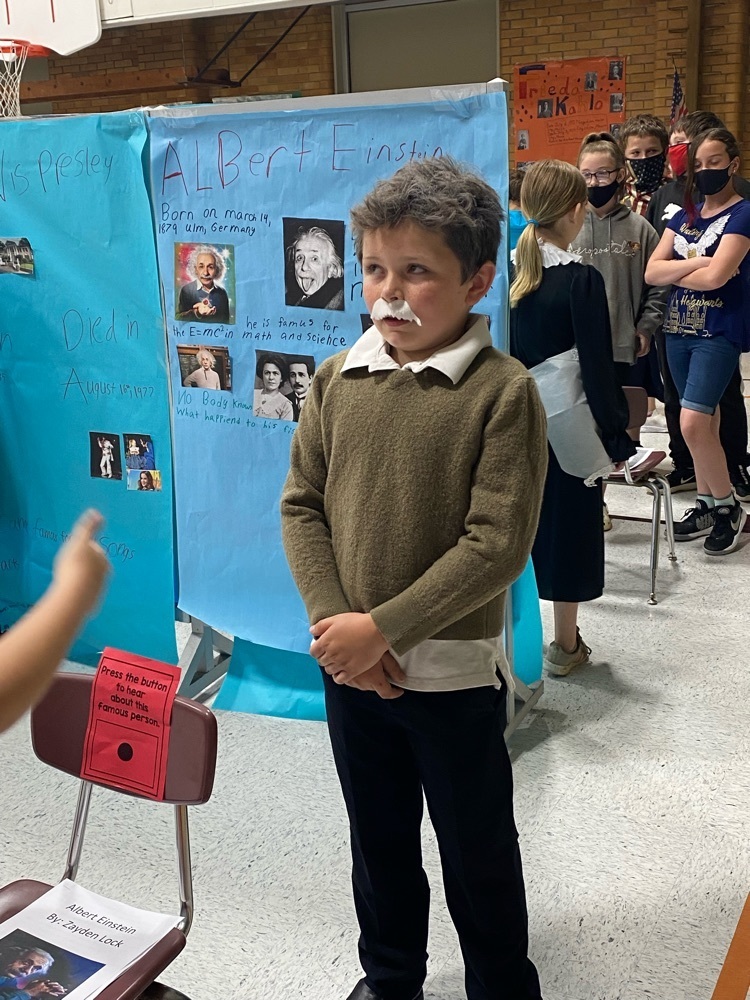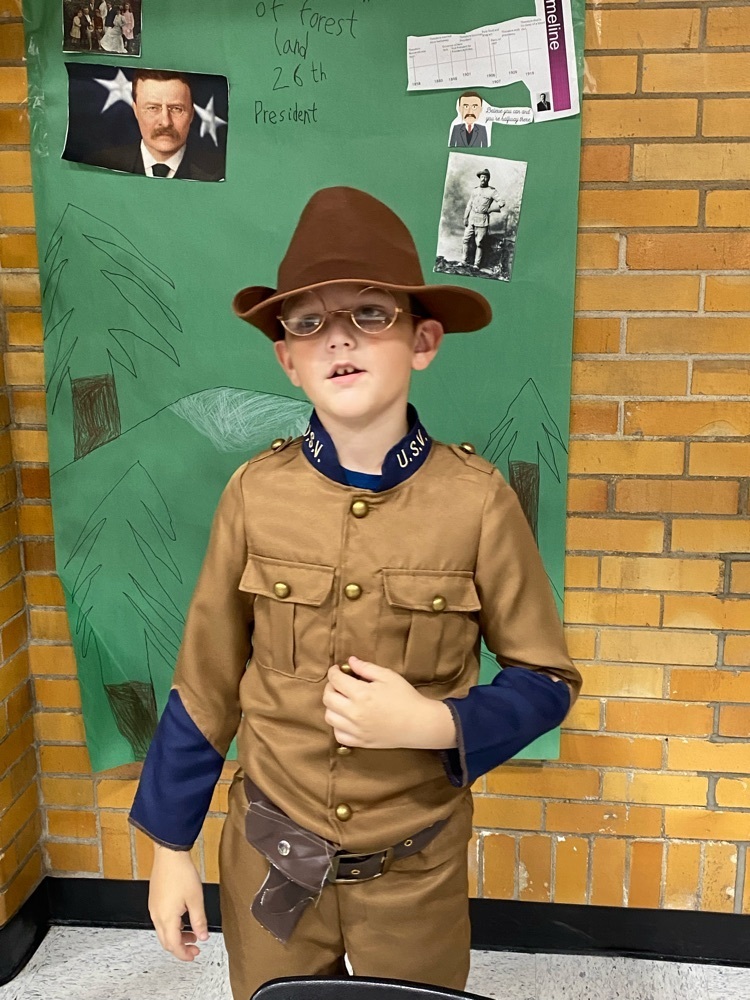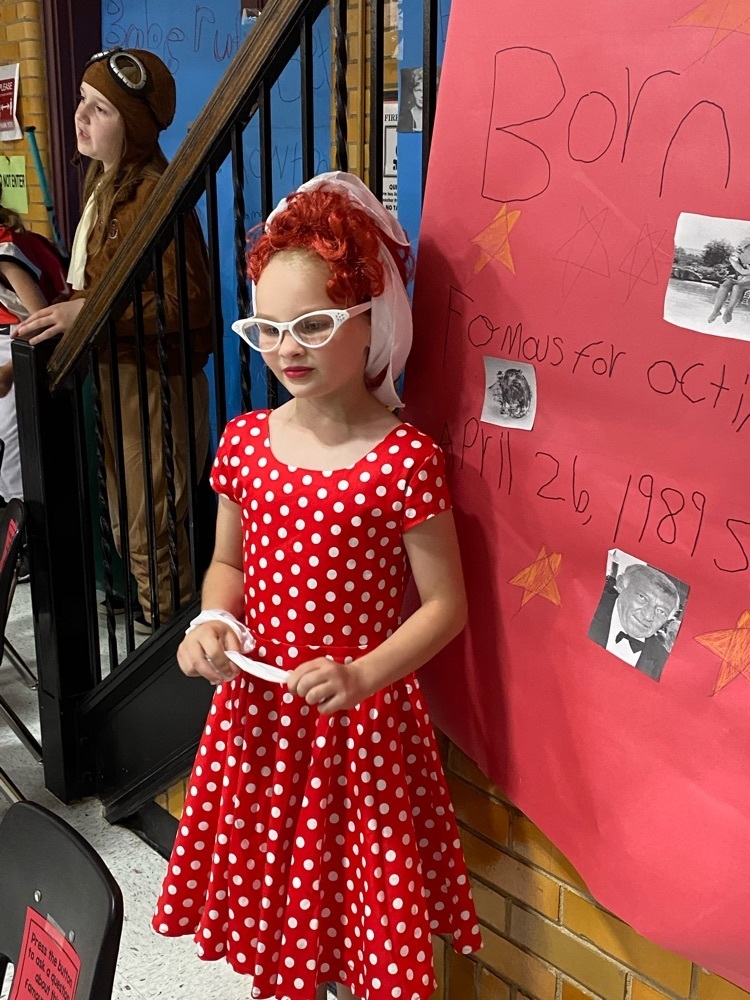 Thank-you CMS choir for singing for us today, and for the Disney Sing Along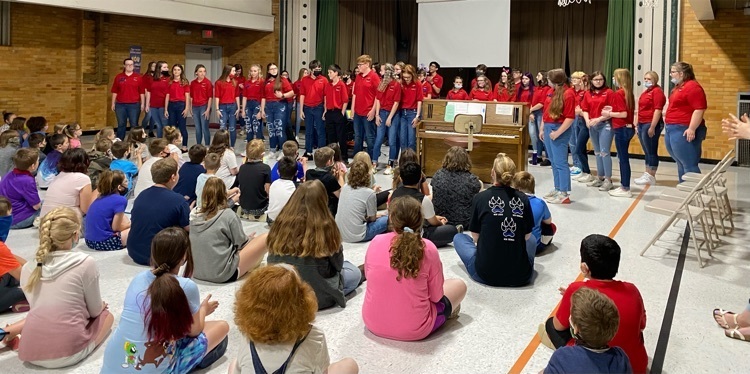 Concerning Chromebooks and Ipads: Dear parents/guardians, Fayette Central Elementary School is allowing students in grade 6 and those attending summer school to keep their Chromebooks over the summer. This will provide an opportunity for students to use the devices for enrichment throughout the summer, ensure that students in summer school have devices for their classes, and guarantee that students will have a device immediately upon return to school in August. Students moving to Connersville Middle School next school year will take their Chromebook to CMS. Students moving from one FCSC elementary school to another will have their Chromebook sent to their new school. Students in grades K-2 with iPads and 3-5 with Chromebooks are expected to return their devices (includes cases, chargers and styluses) Tuesday, May 25th to their classrooms. If you have any problems with your Chromebook over the summer, please make arrangements with the FCSC Tech Team to get it fixed. The phone number is 827-8758 or you can send an email to
techteam@fayette.k12.in.us
. If you end up moving out of the Fayette County School Corporation district over the summer, you will need to return your child's Chromebook, case, charger and stylus before you move. Please call the FCSC tech team at 827-8758 to make arrangements for this. If any Chromebook parts are missing or broken, you will be expected to pay for their replacement (cash or check only). The charges for missing parts are as follows: - $349 No Chromebook - $22 No case/broken case - $36 Just missing the charger - $20 Just missing the stylus If you don't want your child to keep their Chromebook over the summer, or you already know you will to be moving out of FCSC district, please return all parts of the Chromebook (including the case, the charger and the stylus) to your child's school by the last student day, which is Thursday, May 27. If you are asking the school to keep the device for the summer or if you plan to move out of the district, you will be expected to pay for any missing parts when you turn in the device (cash or check only). Kathy McCarty, Principal Fayette Central Elementary School, FCSC

Here is a reminder about the food box distribution today at Fayette Central from 3:45 - 5:15

There will be a food box distribution this Wednesday May 19 at Fayette Central- 3:45 - 5:15- or while supplies last.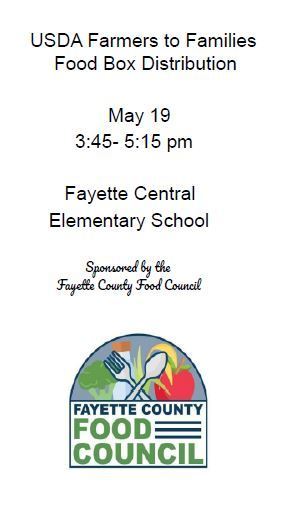 Mrs. Bertsch's second graders earned enough Bee Tickets for a reward so they spent them playing games in their rooms with some sixth graders. All students had a great time.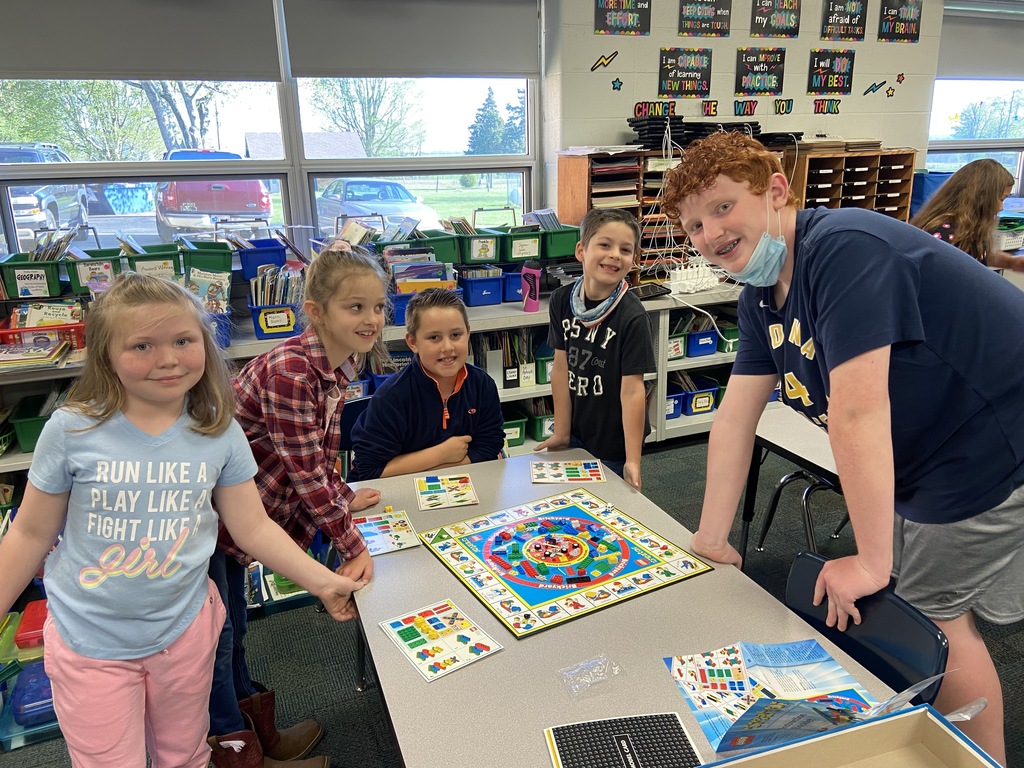 Our new doors look amazing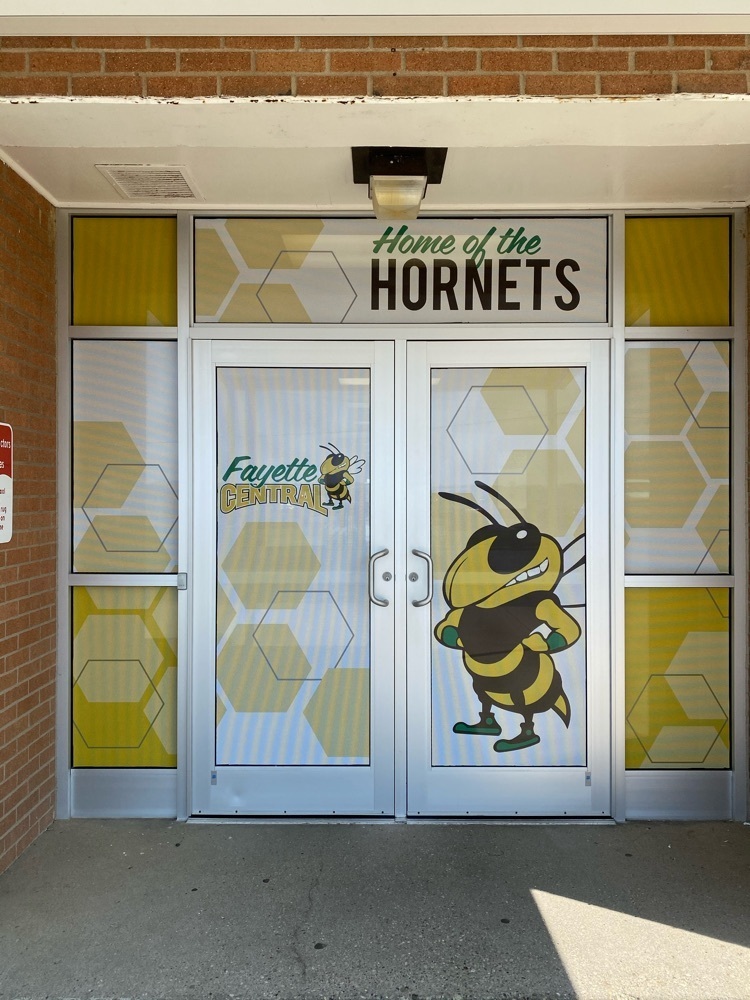 Connersville Spartans Boys Basketball information fliers are being sent home: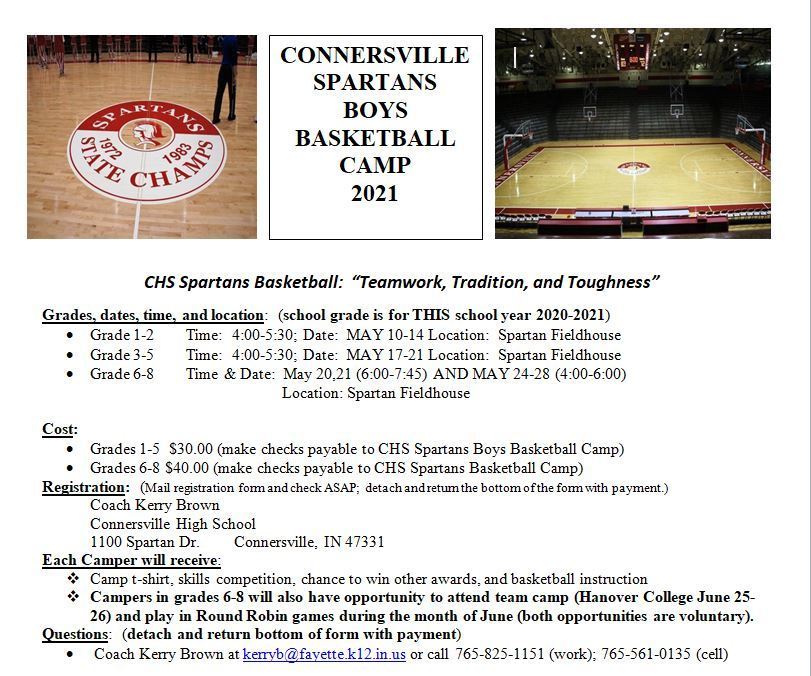 The final NWEA testing for all students and ILEARN for grades 3-6 begins tomorrow. Please encourage your children to take their time and do their best on these tests. Also, please try to be present, on time, and well-rested during these important tests-thank-you!

Our lost and found is overflowing with really nice clothes. Please check to see to see if your child is missing something